From Gweta we drove in a southerly direction along one of the numerous sandy tracks through the bush. Gradually the vegitation became more and more sparse giving way to an open savanna. Soon we found ourselves on the edge of the largest salt pan in the Makgadikgadi, Ntwetwe Pan. 
Ntwetwe Pan is perhaps a tick larger than its twin, the Sua Pan, which is further to the east. The two pans are separated by a narrow strip of land. From Gweta a track can be taken that crosses the pan to Kubu Island, also known as Lekhubu. But not for the faint hearted. Being alone we decide to stick to the edge of the pan and head for Chapman's Baobab.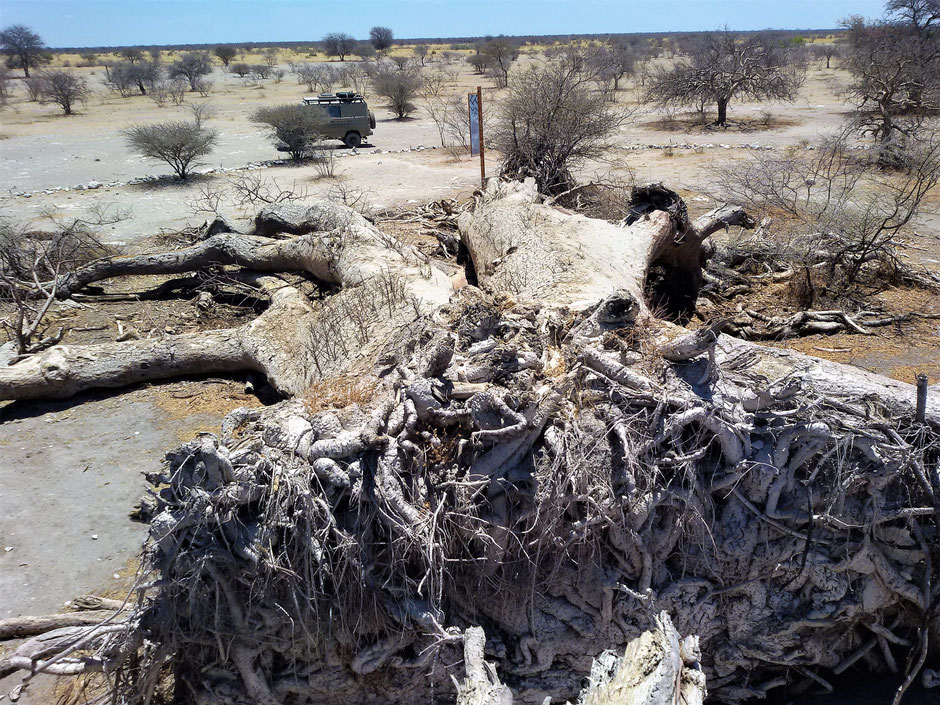 The quirky thing about Chapman's Baobab is that in 2016 it collapsed " under the weignt of its age". The exact cause is unknown. It was one of the three largest baobabs in Africa with a circumferance of 25 meters and was well over a thousand years old. Locally it it known as The Seven Sisters, having had six main trunks and a smaller, newer seventh. It is named after James Chapman, a South African explorer and hunter who first came here in 1852. Baines and Livingstone were also here. The tree is about 38 kilometers south of Gweta and was once a landmark, together with Greene's Baobab and Baines' Baobabs, on an old north / south trade route. Inspite of falling down it is still alive.
We now turn northwards back to Gweta. Greene's Baobab is 11 kilometers away. Perhaps not as spectacular as Chapman's or Baines' but worth the while nonetheless. Joseph Greene was yet another explorer, hunter and trader. We found his inscription in the bark which reads "Green's Expedition 1858". Another early traveller, possibly portugese, is said to have left an inscription dated 1771, but we could'nt find it.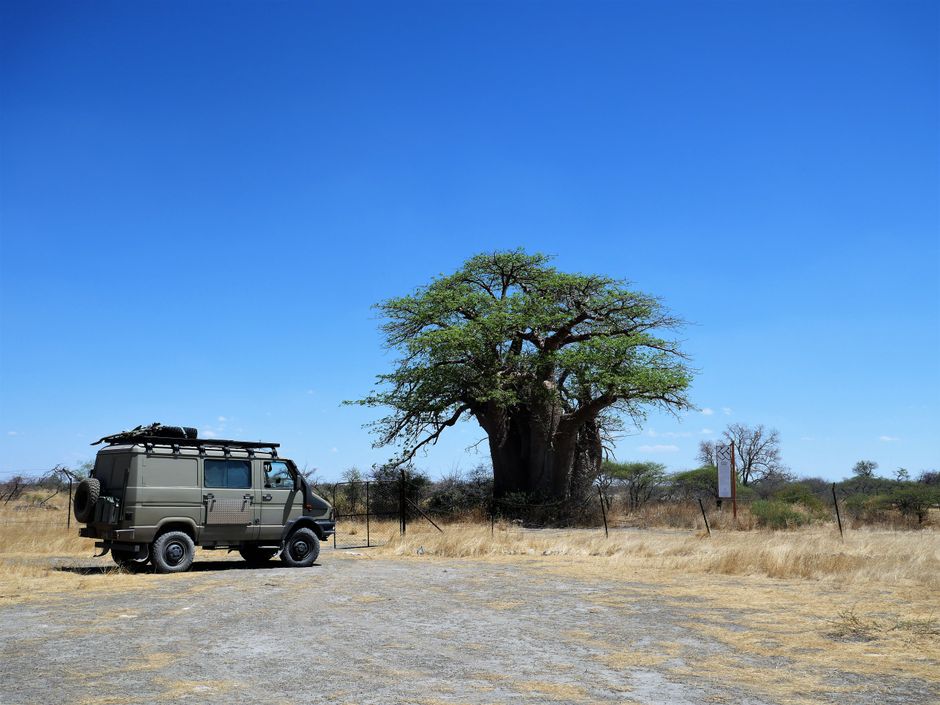 ---