For anyone who is planning a similar journey in the near future, here are a few helpful Zimbabwean facts and figures.
Our route: 
Kilometers:
Diesel:
Diesel costs:
Diesel price:
Traffic:
Mutare, Harare, Gweru, Bulaweyo, Victoria Falls.
1260
Not as bad as in Sudan, where we were only able to refuel with the help of the military. In Zimbabwe fuel was as scarce, but we had American dollars and in Gweru after a long wait in the queue were able to fill up, much to the disgust of the crowd that had gathered and seen the bills being handed over. The pump attendant reluctantly returned the change, in bond notes of course, laughed and said something obviously very amusing  to her audience. In Victoria Falls we had no problem getting diesel and could even pay with bond notes.
148,00 USD (83 real greenbacks in Gweru and 65 bond notes in Victoria Falls, or 125,80 EUR)
1,36 USD in Gweru (1,16 EUR) 
1,40 bond notes in Victoria Falls (1,19 EUR)
Drive on the left. We only drove on the main roads, which were very good. They resembled motorways and were quite empty, probably because of the fuel shortages. Between Mutare and Bulaweyo we had to pay at toll booths at regular intervals, about every 200 kilometers or so. The toll was 2 dollars every time and they accepted bond notes. Between Bulaweyo and Victoria Falls the road was older but no toll had to be paid.
Nights:
Total costs overnight:
Average costs overnight:
4 nights. The first was in the van at a fuel station in Gweru and the following three in the van on a campsite in Victoria Falls, possibly the municipal site, I'm not sure.
81 USD and 5 bond notes for the station attendant (73,10 EUR). He wasn't happy but the previous evening we had haggled out five dollars, which dollars, wasn't specified. 
21,50 dollars (18,26 EUR)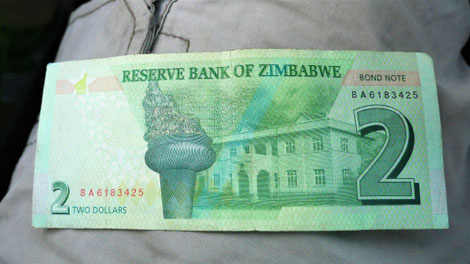 1 Bond Note = I USD = 0,85 EUR. 
Between 1980 and 2017 the average inflation rate in Zimbabwe was 735.6 % per annum. By 2009 hyperinflation forced the Reserve Bank of Zimbabwe to abandon its currency and replace it primarily with the USD. 
During our visit in 2018 the money in ciculation wasn't actually a currency at all but legal tender near money. It has nominally the same value as an American dollar but nobody wants it. On several occasions we found ourselves involved in discussions about which dollars we could pay with. Fortunatly we were prepared and had enough USD with us in cash and even found an ATM in Nairobi that issued USD where we topped up.     
Eating out:
Food:
Bits and bobs:
22.00 USD (18,70 EUR)
4,00 USD (3,40 EUR)
6,00 USD (5,10 EUR)
Visa Zimbabwe:
Road tax:
Toll booths:
Victoria Falls Entrance Fee:
55,00 USD (46,75 EUR) for me (British passport)
30,00 USD (25,50 EUR) for my wife (German passport)
20,00 USD (17,00 EUR) She wanted 50 inklusive insurance and was very fed up as I produced our Yellow Card.
20,00 USD/bond notes (17,00 EUR) 
60,00 USD (51,00 EUR)
Diesel:
Accomodation:
Shopping:
Other costs:
Total:
125,80 EUR
73,10 EUR
27,20 EUR
166,25 EUR
392,35 EUR
We knew that Zimbabwe was going to be difficult because of the economic situation there. However we had enough cash, Euros and American dollars and so were quite confident. We didn't know about the fuel shortages and so just like in the Sudan we modified our plans to ensure a shorter stay. We reluctantly decided not to go to Great Zimbabwe, have only a short stop over at Victoria Falls and get to Botswana as soon as possible. 
---