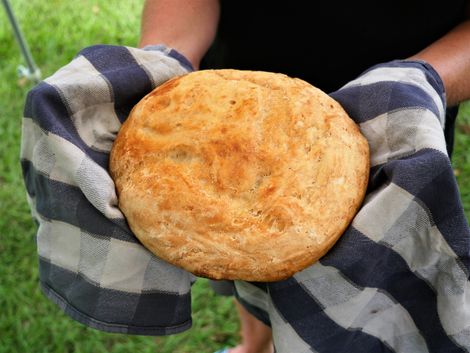 The Haven, without doubt my favorite place in Uganda, is a small but beautifully situated and well run campsite on the west bank of the Victoria Nile, just outside Jinja. 
Cathy and Brett, a couple we met in Nairobi had recommended it to us and we knew as soon as we arrived that it was spot on. It was one of those "let's set up the tarp" places. So we did and stayed a week. The weather was perfect.  the pool cool and clean, the showers hot, the staff competent, engaged and very friendly, the food excellent and the sunrises magnificent.
The owner must have done some overlanding himself, overlanders get a 50% discount, what a wonderfull jesture. Even the firewood was free and we managed to bake our first loaf over the fire, the best I've ever eaten. They also have several water activities including white water rafting, kayaking, etc. All in all thoroughly recommendable. 
---
Thankyou Cathy and Brett
Thanks to all the staff at the Haven.