The heart of Old Cairo, a UNESCO World Cultural Heritage Site, lies just to the east of Downtown in El-Gamaleya. The Shari'a al-Muizz Li-Din Illah otherwise known as Al Moez Ldin Al Fatmi, runs from north to south in a more or less straight line between Bab Al-Futuh and Bab Zuweila, two gates in the medieval city walls. Better known as Al Moez or the Muizz Street.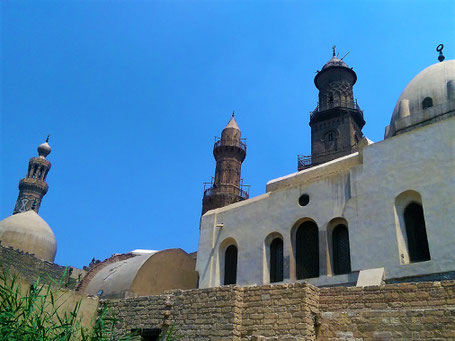 A view of the Qalawun Complex from the hospital court.
Al Moez is intersected and parraleled with a network of lanes, alleys and courtyards woven amongst a myriad of mosques, madrasas, mausoleums and market stalls, kuttabs, workshops, kiosks and cafes, 
we bought an entrance ticket (only 100 EGP each) to visit eleven of the numerous monuments dotted along the street.
 The Qalawun Complex (1285)

 The Al-Salih Ayyub Madrasa (1250)

 The Al-Nasir Mohamed Madrasa (1304)

 The Barquq Madrasa (1386)

 The Al-Kamil Ayyub Madrasa (1225)

 The Inal Public Bath (1456)

 The Qasr Bashtak Palace (1339)

 The Sulayman Agha Al-Silihdar Mosque (1839)

 The Maimonidas Temple (10th century)

 The Khusraw Pasha Sabil-Kuttab Fountain (1535)

 the Bab Al-Futuh Gate (1078)
Only seven of these were open but there was more than enough to see. The quiete, tranquil courtyards and cool interiors are a stark and welcoming contrast to the busy every day to and fro of the Khan El Khalili, the Tent, the Spice and the Perfum Markets and the noise of the Al-Azhar traffic. 
---