Being a tourist can be a little trying at times and so it was nice to have a break and visit a friend of a friend of a friend in Sakanat El-Maadi.
We had been invited to an evening meal and so late in the afternoon we went to El Abd a well known patisserie just round the corner on the 26th of July Street to buy some pastry which is typically something to bring with you as a gift. We then walked to the Nasser metro station which is on the same line as our destination nine stops south bound.
The underground in Cairo is much the same as in London, Paris or Berlin. Perhaps not as cosmopolitan, at the moment. But equally as down to earth and honest, concerned only with commuters and others getting from A to B. Luckily our first ride wasn't during the rush hour, we didn't have to change lines and on our way back late that night there was even enough room to take a seat. The same dos and don'ts apply as elsewhere such as offering your seat to women in general and the aged, pregnant or disabled in particular. Taking photos is not a good idea, even if your motiv includes no people. A ticket costs only two Egyptian pounds (0,10 euro cents) for the whole network.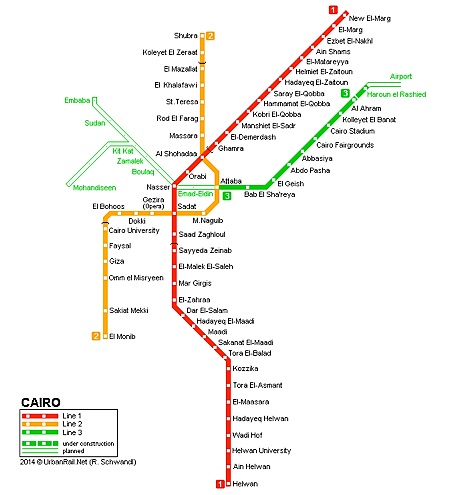 Maadi still has much of that suburban flair intended by its concievers in 1904 when the modern town was planned together with the new railway line between Cairo and Helwan. Much of it is still more spacious, quieter and greener than other parts of Cairo. Many embassies, foreign schools and institutes are located here and not surprisingly it is a much sought after residential corner of the town. Ideal for a relaxed day out and so the following day we had another look round, did some shopping  and had lunch at Ralph's German Bakery. 
---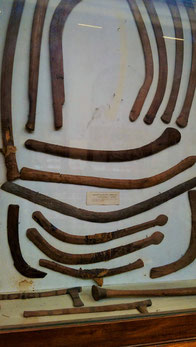 Did you know that not only Aborigenes have boomerangs? The ancient Egyptians had them too!!
Thankyou Maxa
Thankyou Misho
(The picture at the top of this page is of the famous Egyptian filmstar Souad Hossni 1943 - 2001)