After two and a half hours of sleep the night before last and one and a half last night, our first intention as the plane landed  was to catch up on some sleep. And so to that purpose took a taxi directly to our hotel in Downtown Cairo.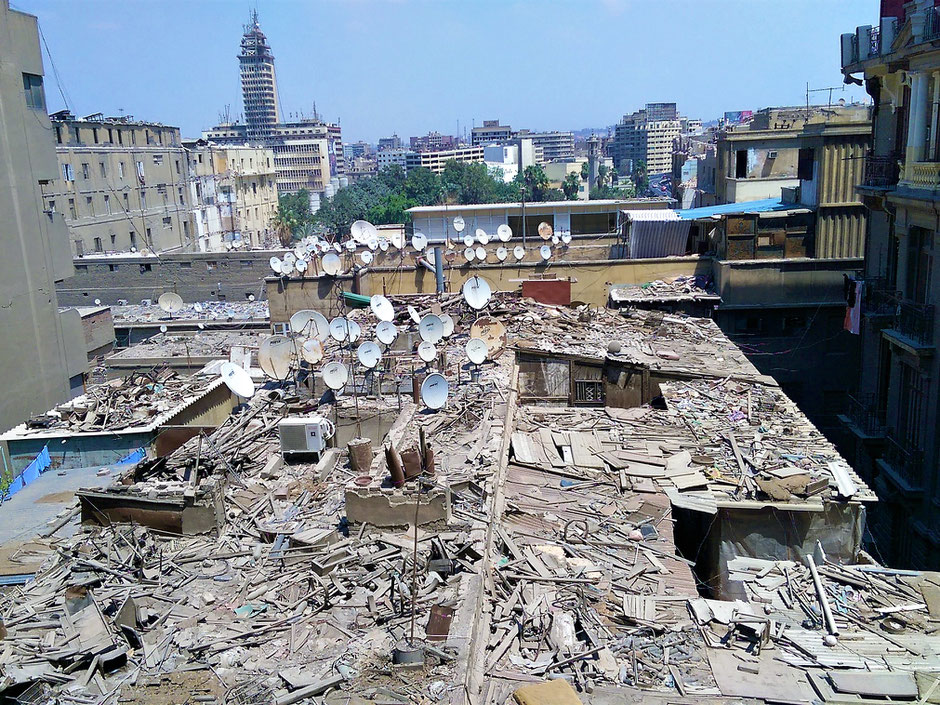 The panorama from our hotel room reveals how you can use rubbish to secure corrugated roofing panels instead of screws and thus have less of it cluttering up the streets and an ingenious contribution to enviremental sustainability.
Downtown is that part of Cairo centered around Talaat Harb Square (circus would be more appropriate). It flourished during Egypt's Belle Epoque, suffered severely during the Cairo fire in 1952, and was again focus of attention in 2011. Pension Roma in the Mohammed Farid street had been recommended by a friend of a friend of a friend, and was to be home for the next eight days. Cairo in eight days can of course hardly be done. We had to pick and choose a few highlights from amoung the numerous  possibilities and chose the Gizeh Necropolis, Old or Islamic Cairo in El-Gamaleya and the Egyptian Museum, Downtown. The next couple of days was spent acclimating and walking around.
I was very happy to visit the museum before the new building is finished and everything is moved. The Grand Egyptian Museum is planneded to be partially opened in 2018. Some of the artefacts have allready been moved to the new site  opposite the pyramids in Gizeh. Others have come from elsewhere. The old museum however built in 1902 still displays many of the most important items ever found by egyptologists including the Mask of Tutankhamun and the Narmer Palette, the Rosetta Stone on the other side of the corridor is a copy, the original is still in the British Museum. Thank heavens they were not stolen or damaged when the museum was brocken into during the turmoils at the neighbouring Tahrir Square in 2011. 
Downtown was the starting point for our other excursions farther afield. Late afternoons when we got back we would do our shopping in the nearby Souk Al Tawfik (fruit and veg). Or in the evening have a glass of wine in Cafe Riche, which isn't, by a long way, what it must have once been. Do some window shopping along the Talaat Harb and environs, or just have a strole along the river. I know more about Cairo now than I did before our visit and look forward to going there again. 
---