During our trip in the Moremi I noticed an occasional clunky sort of sound coming from underneath the van but nothing seemed to be missing, hanging loose, or leaking and so I wasn't too concerned for the moment. I'm used to the various noises the van makes, however, this was definitly something new and that I would have to pay some attention to. Little did I know at the time that a few days later, this might possibly be the end of our adventure. 
Suddenly the accelerator pedal gave way and a horrible churning noise came from the gearbox. I hit the clutch and the brakes untill we came to a halt. I knew immediatly that this was serious. A few attemps later I managed to engage and drive off, but very soon, whilst still in first gear, the gears slipped again. I tried in second, this time with success and we limped back to the campsite which was only 2 or 3 kilometers away.  Luckily we were still in Maun.
Karlheinz, a neighbour at the campsite, and an Iveco owner, knew a mechanic in Maun where he had been a few years ago and who had helped him out. The next morning Karlheinz was kind enough to accompany us there before leaving Maun. M, the mechaniker, ( I don't want to mention any names) got in and I drove him round the block. He then gave me the bad news.....the gearbox would have to come out !!! 
I was of course expecting something of the kind but hadn't yet appreciated what I was letting myself in for. For the moment I was happy that he was prepaired to help and that we could camp up on the roadside just outside his workshop for the time being. 
The next morning M arrived and we agreed that I could begin with disconnecting the cardan shafts. An hour or two later M drove off and came back after lunch. At length he then sent one of his "boys" under the van. Communication was difficult enough with M, I think he spoke more Afrikaans, but with his boys it was next to impossible. I began to have my doubts. M hadn't even taken a look beneath the van himself.
Later that afternoon whilst underneath the van, a bakkie pulled up. "Looks a bloody rough job mate". He was a kiwi and his nickname was Two Dogs or just Dogs for short. I'll spare an explanation. How right he was. I told him about our mishap and the problems we were encountering with the repair. He seemed quite concerned, knew M, reasoned that he had probably bitten off more than he could chew and that he would have a word with him that evening. It was a shame that we hadn't met him first. Dogs happened to be a mechanic himself and had a workshop up the road.  
As the day drew to an end M's guys were trying to separate the bellhousing from the engine with crowbars. The gearbox, the Transmissionbox and the bellhousing were all still one unit and beneath that unit they had a bottle jack and a block of wood. I now began to dispair. Luckily they had forgotten two screws that were hard to get to, so that would have to wait till tomorrow. I spoke to M about the whole situation but he just made excuses.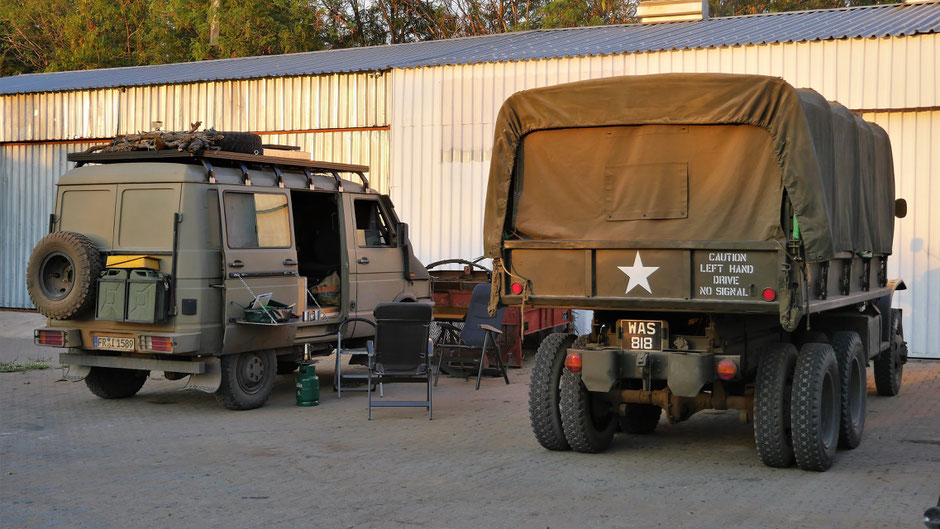 Having spoken with Dogs I was convinced that it was time to make a decision. Dogs wasn't even certain that the gearbox was the problem and I was sure that if we stayed at M's more damage would be done than fixed, that it would take ages and that it would be unaffordable. The next morning I informed M that that was it and asked what I owed him. He seemed relieved and wouldn't take any money. He was probably glad to be rid of us. That evening Dogs towed us to his yard where we spent the following week repairing the van. We were able to sleep in the van. Dogs was working on a 2nd world war truck. Overnight he locked it up in his unit and the yard was locked so we were completely safe.
Dogs supposed that the transmissionbox was the culprit. So I took it off and he took it apart. He was right. The high / low range selector fork had worn. The solution was to make a collar for the drive shaft, leave out the fork when putting everything back together and thus put the van into permanent high range. We would be able to drive normally and still have four wheel drive but no low range. That would let us continue our journey without having to wait for original parts and back in Europe could have it fixed properly. Dogs took the shaft to a machine shop, had a collar made, heated and pressed on. The first attempt didn't quite work, the collar was a little too thin and the process had to be repeated. But it worked a treat.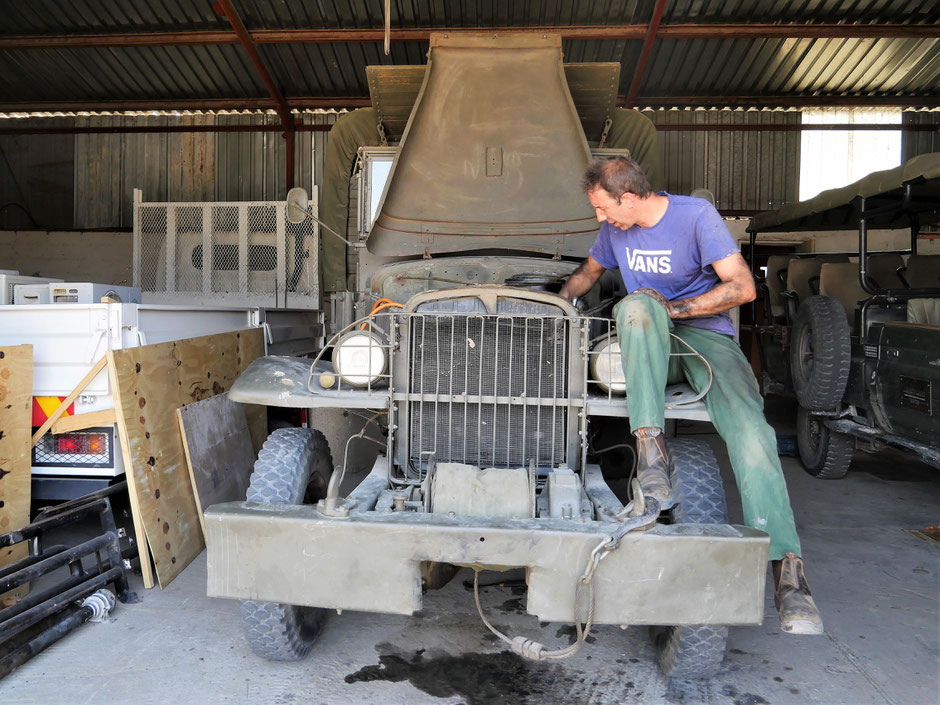 We had now been stuck in Maun almost a fortnight and were now looking forward to settling with Dogs and driving to the Makgadikgadi Pans. Our last evening was spent on the banks of the Thamalakane River with Dogs, the family, the neighbours and a delicious braai.
---