The police checkpoint was across the plain upon another hillock. We had arrived in Kenya but had no idea where the border exactly was. Presumably at the military camp we had just passed. Todonyang lay a few Kilometers farther on. There we could refuel and possibly stay the night. Soon thereafter however, we had completely lost our way. Jambo Kenya!!!
Of course we had asked the way at the police compound where we were politely greeted and shown to a small one roomed building with large depictions of the president of Kenya, the chief of police and a map of Turkana county on the back wall behind a desk. Upon it lay a large register in which our details were transcribed. The officer was cheerful very friendly and made every effort to appear composed and not at all surprised by our visit. He hadn't been able to find a pen though, so we donated ours and were promptly rewarded with all the necessary directions.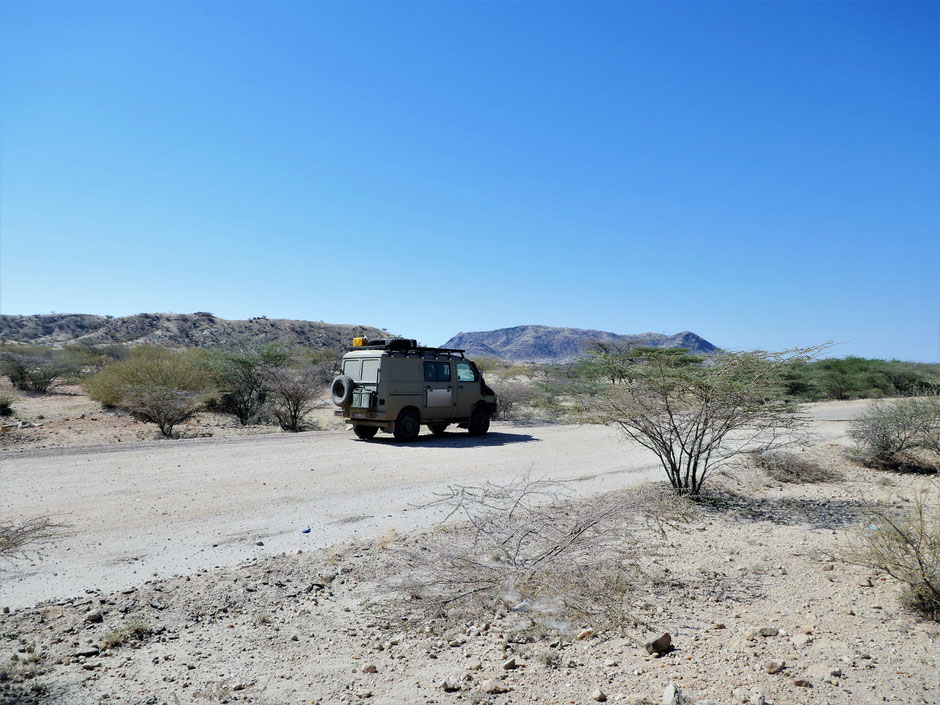 The road however, which was just a track, wasn't really discernable amongst the numerous other tracks and paths dissecting each other amidst the long gras and we missed Todonyang alltogether. One track lead to a dead end in the bush, another seemed to have been washed away and we had to make a detour towards the hills on our right. It was by now early afternoon and we reckoned that we had enough time and fuel and so decided to forget Todonyang and try to get to Lodwar before nightfall.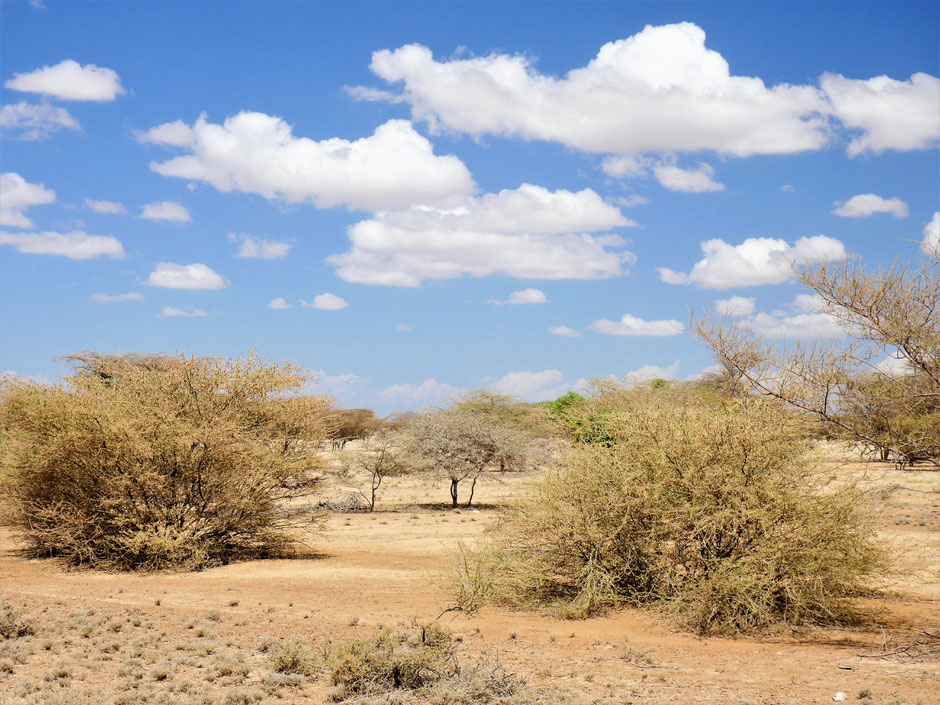 Our expensive Tracks 4 Africa software was useless. The Garmin had nothing on the display but a blue arrow head, the lake and far to our left, the road which wasn't there. At least we had the compas directions. The Google Maps app on the phone was far more helpful. That little blue dot had been, together with paper maps, our most reliable navigation tool throughout Egypt, Sudan and Ethiopia.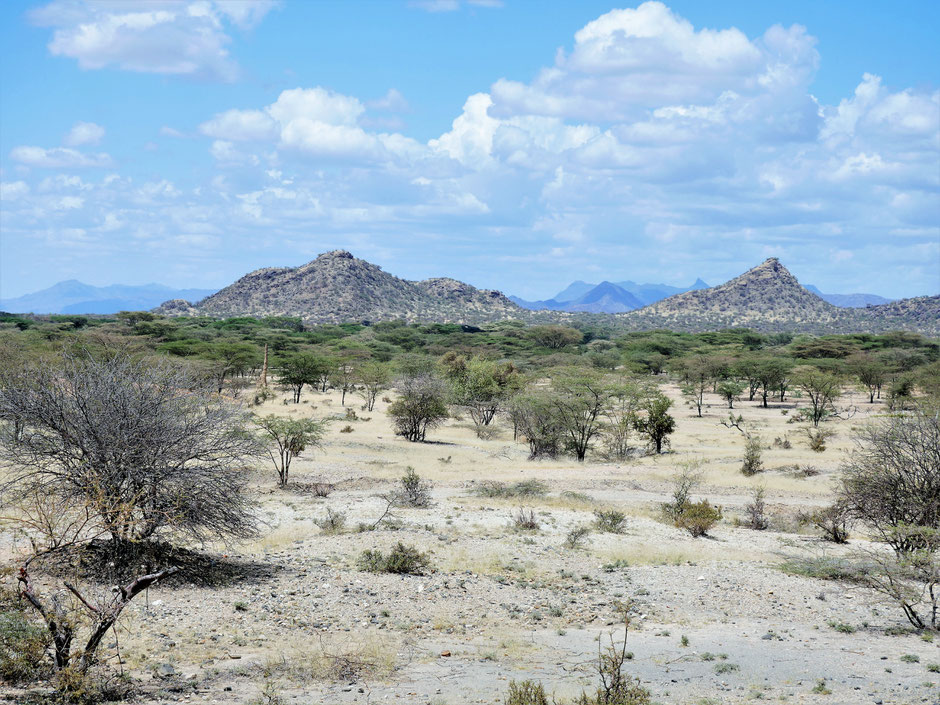 At length the track veered off to the left, towards the lake and the main road (on the display) came nearer. Then we drove into Lowarengak, our first village. The main road was still a dirt road but now much wider and had been levelled. It was by far a better drive and we reached Lodwar just in time. It was by now dark. Half an hour later we had our first Tusker beer (500 ml bottles!!!) and our first Kenyan evening meal……Injera, of course.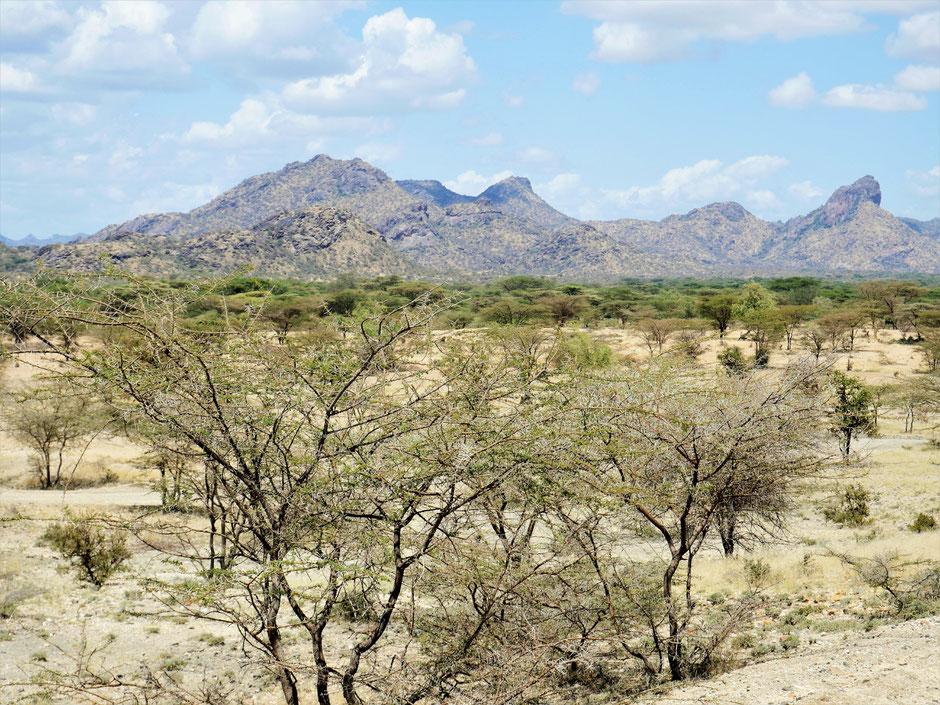 At the border the police had registered us but hadn't stamped our passports. There was no immigration office and no customs office in Todonyang (just as well that we couldn't find it) and we were told that we would have to go to the police station in Lodwar to have things sorted out there, which being on our route anyway was fine. There, a high ranked officer shook his head and smiled as we told him our story in his office early the next morning. A customs and inland revenue office was in town but the next immigration office was in Lokichoggio towards South Sudan. Instead of sending us back north, upon hearing that we were going to Nairobi, said that we could have our passports stamped at the international airport in Eldoret which is on the way. He then kindly gave us his telephone number in case any questions needed answering at any police checkpoints between here and there and even sent Anderson, a social worker who happened to be there, with us to show us the way to the customs office. It's such a shame, but unfortunatly, I don't have his name.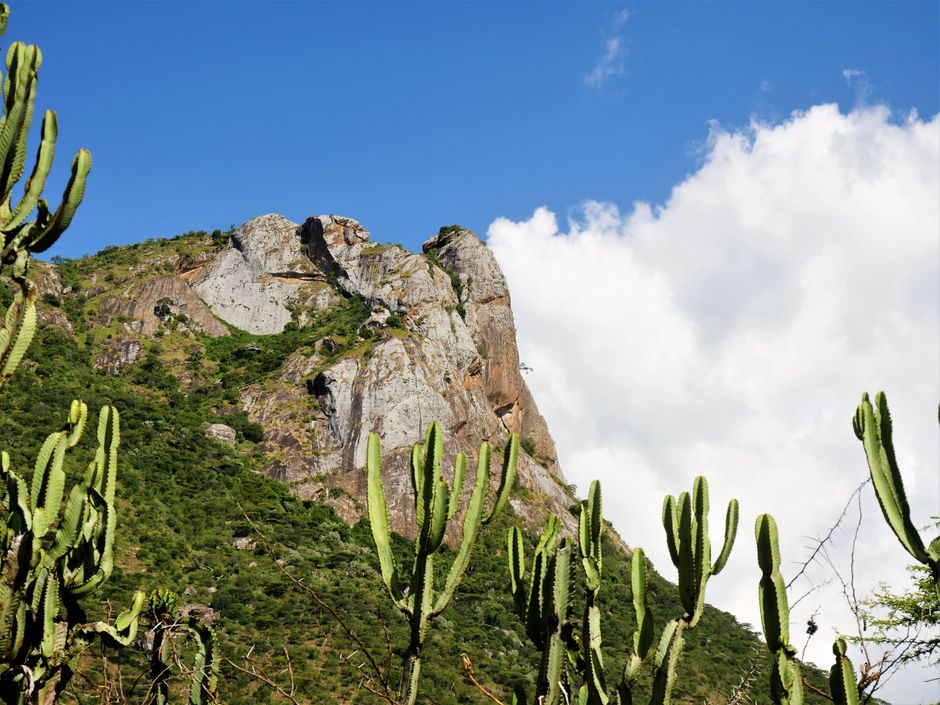 Lodwar seems after only one morning to be so much more developed than Omorate. The police are polite, well dressed, speak english and are very helpful. The shops offer fresh fruit and vegitables (and not just tomatoes, potatoes and onions), we even bought cucumbers and apples again. And they sell bags of chips to take away with a delicious chilli - coleslaw sauce for 100 shillings. There are several filling stations and numerous cars and motorbikes. We felt as if we had come back to the 21st century. The locals do stare but are more reserved and by no means as intrusive as many Ethiopians were.   
The customs officer was happy that we knew what had to be done concerning the carnet and thankfully followed our instructions. We then brought Anderson back to the police station and changed money with the owner of our pension, fortunatly an Ethiopian, the banks would not take Birr. Tomorrow we set off for Eldoret.
---