It was now time for a last adventure before leaving Ethiopia, something I had been looking forward to for a long time and an absolute highlight. We would be crossing the border into Kenya west of Lake Turkana and on the way there visiting one of the Lower Omo Valley tribes in the far south.
Konso was the only town in Ethiopia where we had to pay a surcharge of 2 Birr on each liter of diesel for the generater that ran the pump. Probably a scam, but nevermind, there aren't that many filling stations in the area, and we didn't want to drive just to find diesel nor risk running out whilst doing so. We would stay here the night and stock up before going to Turmi.
Whilst shopping around we bumped into Asha who would be our guide for the next four days and over a tea discussed what we wanted to do and what the costs would be. Asha seemed very reasonable. He would cost us 30 USD per day and told us what each "activity" would cost on top. We weren't bullied into this or that. In fact he was very compliant and could even accompany us to the border. We spent the rest of the afternoon shopping with Asha. We needed salt and soap as gifts and new 5 Birr notes for photos.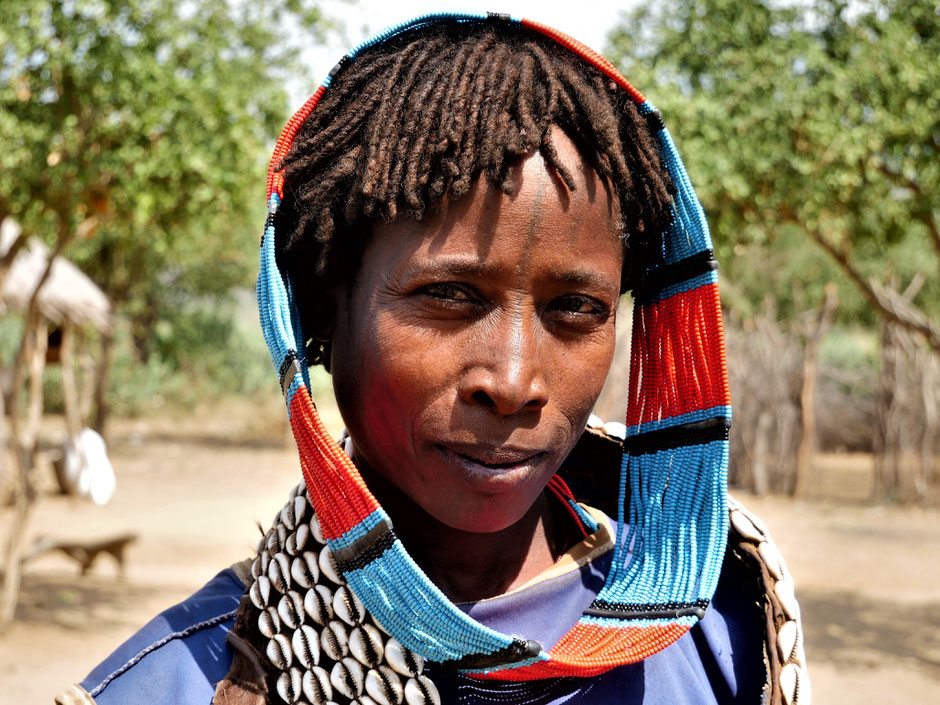 ---
Thursday 26.07.18. Konso - Key Afer - Turmi.
Asha arrived late, but at least he came (we had given him a small amount up front to make some provisions), with a small backpack, freshly dressed, washed and shaved. He would be with us in the van the whole time. We wouldn't be eating together and he would take a room for himself at our overnight stop overs.
Our first stop was in a Tsamey village near Weito. Asha happens to be a Tsamey of course. Unhappily next to no one was there. The woman in the photo above, lots of children and a younger man who represented the chief in his absence and who was very keen to recieve our entrance fee. We urged Asha to get on with it, there wasn't much here to see after all, and  let us get to Key Afer on time, where the weekly market takes place every Thursday.
Fortunatly for us (and for Asha) we arrived about mid morning. The market was at its height and we had soon completely forgotten the delay. Key Afer is a very well known and popular tourist attraction. A good opportunity to experience and interact with members of the various local tribes that take part. The largest group in the area are the Banna.  
Late that afternoon we drove to Turmi 80 kilometers further south (gravel / dirt road) in the heart of the Hamar tribe where we caught the end of a smaller market and where we were to sleep that night. That evening we drove to a nearby village to witness an Evangedi dance, where by moonlight the young men and girls "who are ready" get to know one another a little better. Occasionally a couple will disappear into the surrounding bushland and get to know one another much much better.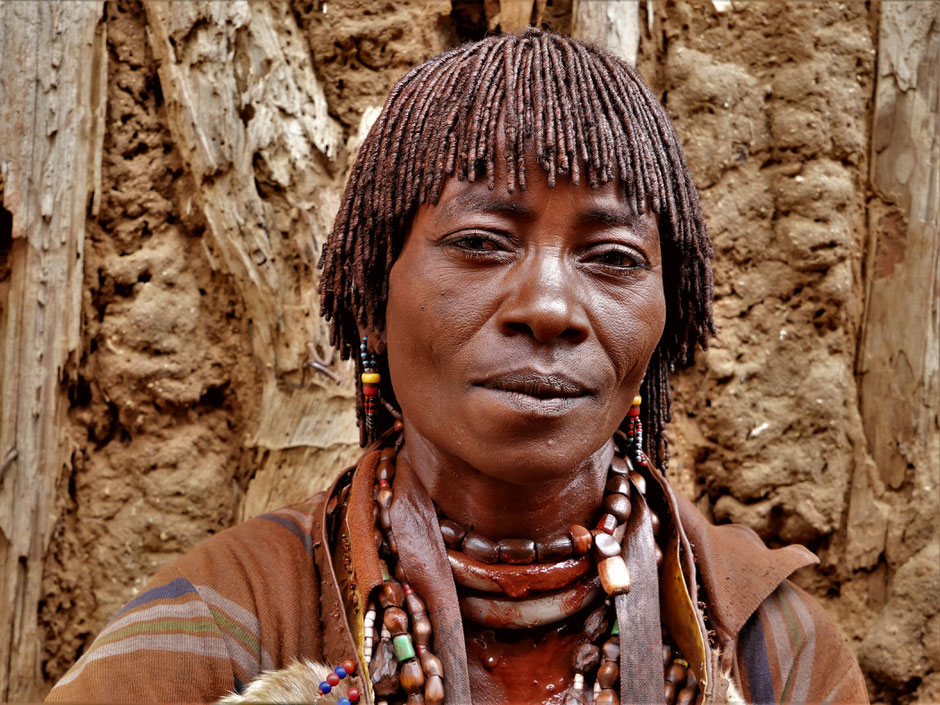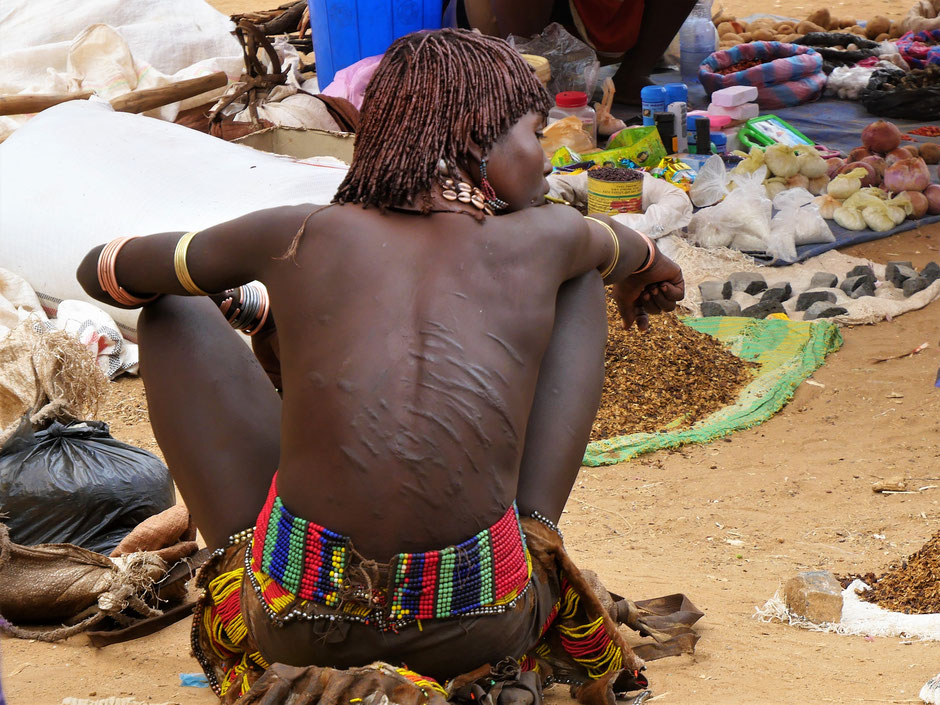 ---
Friday 27.07.18. Turmi - Key Afer.
Back to Key Afer where we have to wait quite a while to pick up a local guide, and drive back to Aldobo, where a group of Chinese with their guides are having breakfast. Another wait and then we drive alltogether offroad half an hour or so into the hills and then walk (jog) another hour to a village where the famous bull jumping initiation ceremony was being held.
The whole experience was spoilt by the local guide who had arrived late, wasted time at breakfast (I should say brunch) stopped the cars too soon on the offroad track, thrown everyone out and chased them up hill in various unorganised groups, without informing us of the ordeal we were about to suffer, without water, without asking about any ailments that anyone might have, without apparently informing our guides, at least Asha had no idea what was going on, and so on and so forth. One of the Chinese groups got lost and so did we. Eventually we got back on track and arrived in time. The ceremony was allready underway, but at an early stage and the girls had only just began to dance. Then the lost chinese group arrived, vexed and as completely exhausted as we were. A heated discussion ensued about the incompetence of the guide. I contributed what I could. One of the Chinese was so upset that he left and others were not far from joining him. Many of us were very angry about it and as the guide became abusive and insulting a good deal of mediation and intervention from others was necessary to prevent things becoming very ugly.
As if that wasn't enough, as long as my camera worked, taking pictures without chinese participation was very difficult. They would allways jump into the frame at the very last moment. Particularly one very silly and obnoxious little girl would permanently hop about amongst the tibeswoman or sit amongst the tribesmen and have her face painted as if we were all there just to see her have the time of her life. Then as the bull jumping began my camera of course gave up without any obvious reason. Thank goodness Sig had hers.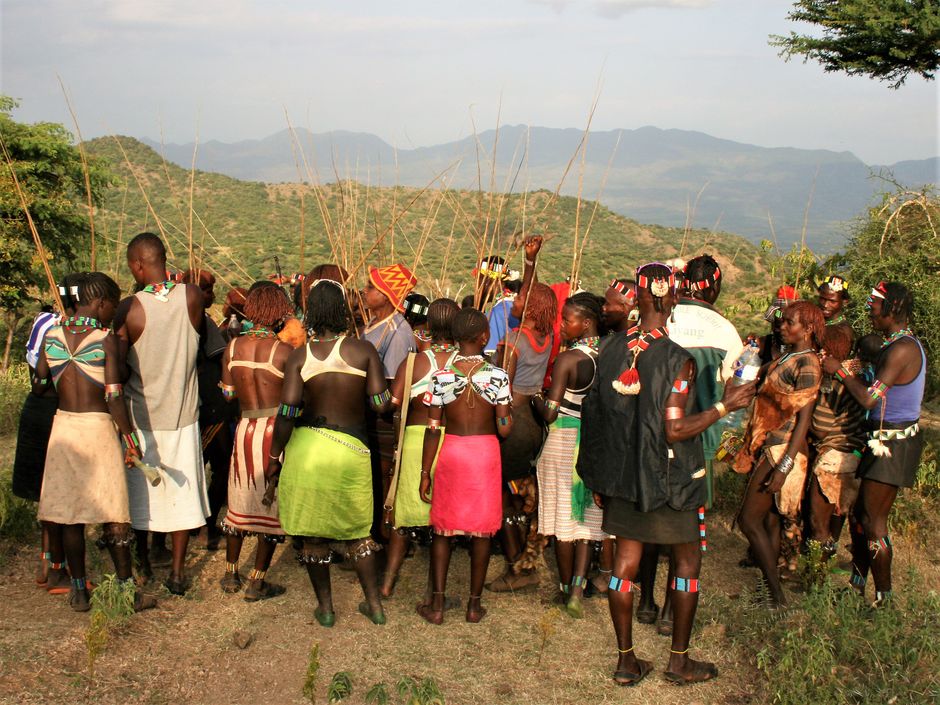 By dusk we made our way back down the hill at a steady trott and drove in the dark the rest of the way to the main road and back to Key Afer where we spent the night. I had refused to take the local guide back with us and learnt from Asha the next morning that the Chinese had done likewise and that he had had to walk home which was to a degree consoling. 
---
Saturday 28.07.18. Key Afer - Jinka - Majo NP - Turmi.
Up before dawn and before daylight on our way to visit a Mursi village near Jinka in the Majo National Park. Asha was uneasy. He had in Konso tried in vain to disuade us from driving to the Mursi. He doesn't like them, "they drink too much, are aggresive and unpredictable".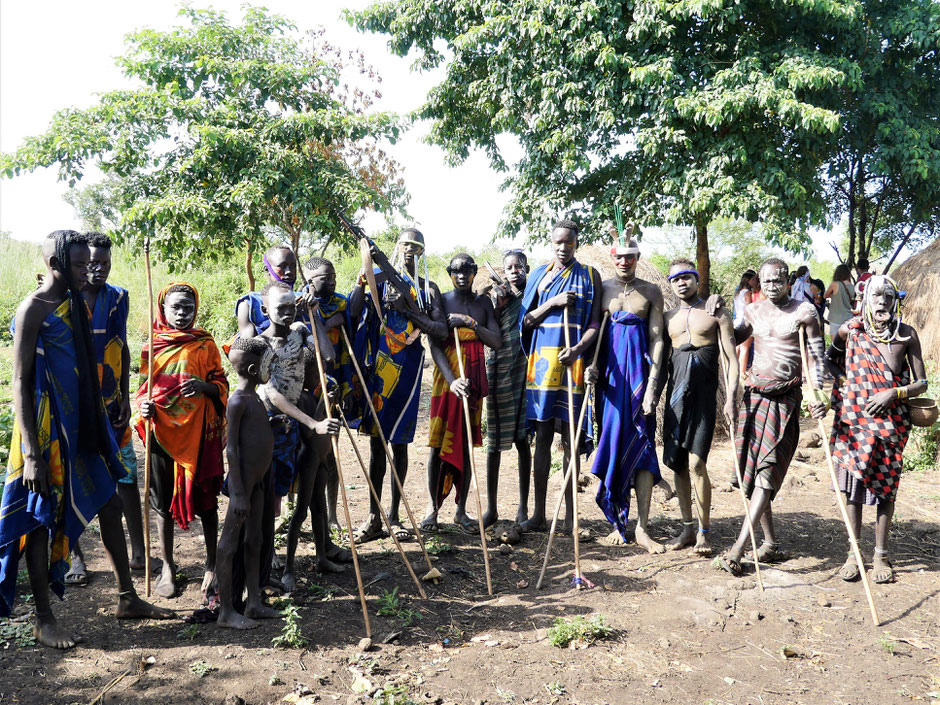 At the park Gatehouse (the guide office in Jinka) we had to pay double the entrance fee. Asha supposed this was to compensate for not requiring a local guide. We then drove to the park (a sign post next to the road mark its begin) where an armed guard was compulsory. Asha told us to prepare our bag of salt and soap, that for a photo we would have to pay at least 10 instead of 5 Birr and that we were to wait with taking photos untill he gave us a nod. He continued that we would be visiting a different village than planned because in that village there had been a disagreement the night before and that someone had been shot dead. 
The atmosphere was indeed tense and wary in the village and none of them smiled. However a group of four Spaniards were also there and so we weren't too uneased. An hour later we were back in the car and Asha let loose a sigh of reief. In Jinka we refuelled (there would be no more diesel between here and Lodwar in Kenya) and drove back to Turmi where we spent the night. 
---
Sunday 29.07.18. Turmi - Omorate - Lodwar.
In Turmi there was surprisingly just outside the town a police checkpoint on the road to Omorate. We had in the whole of Ethiopia only passed through one near the Sudanese border and two near Eritrea. A certain sign that Kenya wasn't far off.
The very bad road out of town soon gave way to brand new asphalt. We made good progress and were soon in Omorate. On the way I made my first road kill. A young kid couldn't decide which way to turn fast enough and turned the wrong way. Poor thing. I wasn't concerned about missing it, we were going at a pace, had I swerved I may well have lost controll of the vehicle and put our own lives at risk.I do feel sorry for the owner who of course suffered a loss. However it happened in the middle of nowhere and no one was about, more importantly no heardsman or boy and so we carried on. It didn't even land in our Potjie. To be honest I don't think there was that much left of it.
In Omorate Asha asked the way to customs where someone soon turned up and opened the offices. The carnet was stamped without the van even being opened, and thence to immigration in the same street where our passports received an exit stamp without further ado.  We then went to a bar on the banks of the Omo where Asha organised a local guide to take us to the border. They wanted 150 USD, we offered 100 and they wouldn't accept. Asha had a heated discussion with them in which I joined in and as we were about to go without a guide they persuaded Asha to believe that something would almost certainly happen to us if we left without their consent (without paying), the animosity between the Dassanech and Turkana tribes was of course over exaggerated and the main excuse for the absolute necessity of a guide, and that at the very best the police at the bridge would demand a lot more. I think they even threatened him. He was obviously very upset. Finally after two hours of hard negotiation we agreed on 120 USD. It would have been imprudent to have gone alone allthough we had every right to do so. Of course these days everyone has a smartphone and the bad guys have several. Half an hour later we were given a guide on a motorbike and the negotiater held out his hand for the money. I made it clear that I would only pay upon arrival at the border. The negotiater began arguing with Asha again. This time however he soon reluctantly gave up. Asha and the guide on his motorbike set off and we were to follow.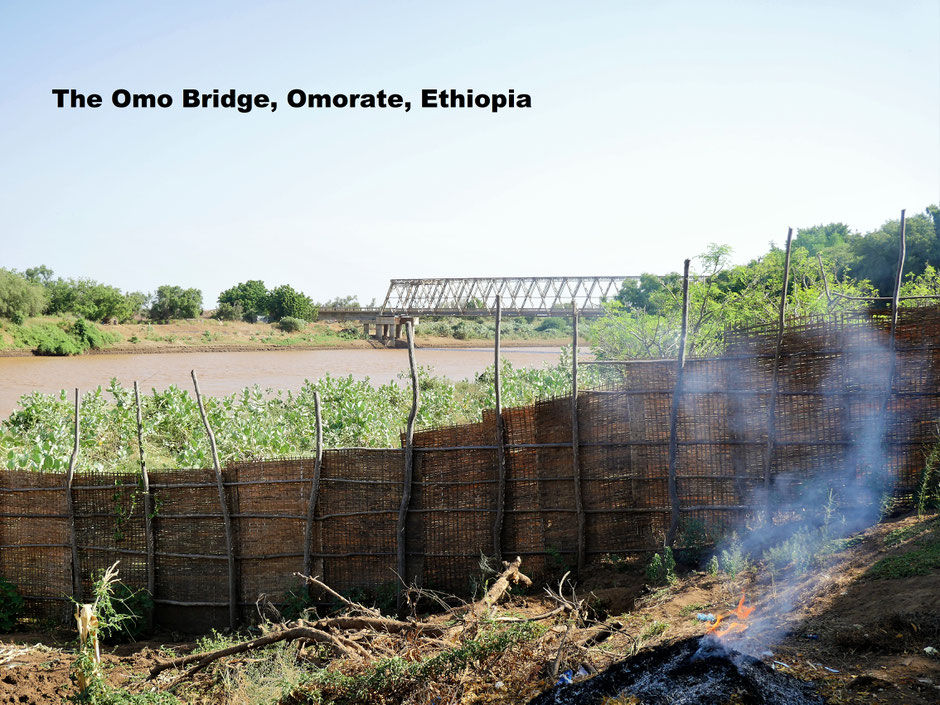 At the bridge the police were "informed" by the guide and we were waved through. A few kilometres later we turned left, off the road and drove behind the motorbike through the desert with a mountain range in the distance to our right and the river seemed in a thin line of green on our left. The sand wasn't too soft and we managed without getting stuck.
About 5 kilometers from the border the guide and Asha wanted money and I insisted upon being taken to the border post. It was "only 2 kilometers straight a head". I wouldn't budge and said I'll pay when I see it. Which was just as well, as the track ahead wasn't straight and they were in addition numerous. Eventually an army post became visible on a hill to the left which we made for and stopped a long way off. The others went there, spoke with them and then we were allowed to approach. They were indeed Kenyans. They had a look at us and allowed us to continue, pointing to another hill where a police station was. We then drove back down the valley a few hundred meters, settled with both of them, said thankyou to Asha, advised him to brush up on his English a little and were on our own. 
---