I don't like Addis at all. It's big, noisy, crowded, expensive and it rains every day. However, the Kenyan Embassy is there and we needed an East African Visa which is valid for´Kenya, Uganda and Rwanda. Fortunatly in Addis there is also a Hilton.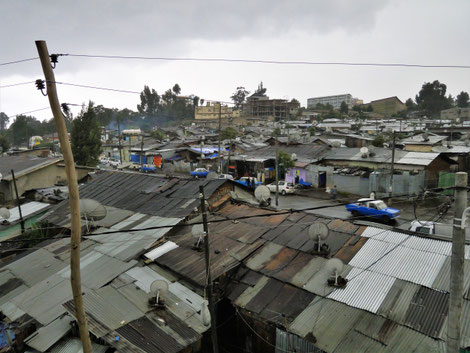 The 500 kilometers from Bahir to Addis seemed possible in one day looking at the map. It would involve some steep climbs and deep descents but it was tared and was a main road. It had rained all night but had cleared up that morning and the first 300 kilometers weren't all that bad. 
The road (B31) then crosses the Blue Nile, which forms the border here between the regions of Amhara and Oromia. The next 25 kilometers were dreadful. A mountain range, bad roads and lorries. The going was slow and it soon became obvious that we wouldn't get to Addis that day and indeed spent the night in Maketuri.
The next morning we only had another 80 kilometers or so to do but the traffic grew and as we reached the outskirts it came to a stand still. A long climb uphill bumper to bumper, between heavy goods vehicles followed (poor clutch !!!). It seemed to last hours. At the top of the hill there was a police controll. How stupid and inconsiderate to have it there. And to make make my day perfect we were of course pulled over. The afternoon was spent trying to find somewhere with reasonable rates and wifi that worked, which proved impossible. By evening we had found a small hotel, without wifi and it began to rain again. At least we had hot water that night.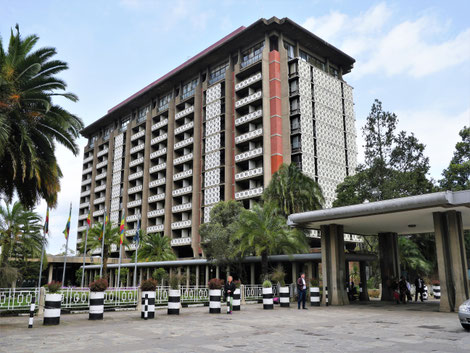 The next day I was in a very sullen miserable state. Sig then had a brilliant idea. It was sunday, the embassy was closed and we didn't want to sit around all day with no internet. "let's drive to the Hilton, have a coffee in the lobby, and see if we can use the wifi"
An hour later, as we were loitering around the lobby trying to make ourselves as inconspicuous as possible and chatting about where the coffee bar might be found, we were greeted in german by a young man in a suite and name badge on his lapel and asked if he could be of any help.
Frank, from Saxony, was one of the managers and of course we could use the wifi and the lobby bar. There however they wouldn't give us a password without a room number. Frank came to our rescue a little later with a password and appologised for the inconvenience. He was so polite and friendly. We chatted a little about how he came to be here and what he thought of Addis thus far and so on. As we in turn were asked about our trip, Sig explained that we were overlanding, that we were on our way to Cape Town, that it would be fantastic if we could stay at the Hilton, in our van, on the car park, just because of their wifi and if he thought that might be possible. I couldn't believe my ears. A short silence followed and Frank said "warum nicht" he would ask the the manager, his boss.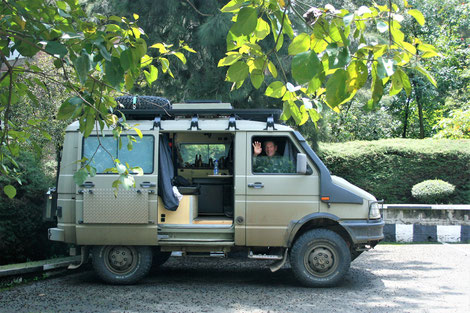 Later that afternoon Julien the manager from France introduced himself and appologised for the delay. He had heard about our voyage and would be very happy to have us. He would love to be able to do something  similar in the future.
He then asked how long we would be staying and added that a night or two would be fine. We managed to squeeze two or three out of him. He continued that we would be on the deliveries and staff car park round the corner, that we were to be his guests and that it wouldn't cost us anything. We agreed that we would come tomorrow and then be shown where we could park the van. Fantastic. That evening Julien was rewarded for his generosity, France won the football world cup.
On our way to the Hilton the next morning we drove first of all to the embassy where we filled out the application forms and paid 100 USD each and were told we could have our passports back including the visas tomorrow afternoon. We then drove to the Hilton where we were shown to our corner by the security manager and introduced to his shift foreman. The next two days were spent getting our passports (using a taxi) and relaxing. We were fortunate to bump into Frank and Julien. Nonetheless I was happy to leave Addis. 
---
Thankyou Frank
Thankyou Julien