Bahir Dar is the capital of Amhara and third largest city in Ethiopia. Many tourists, both foreign and national are attracted by the nearby overflow where the lake empties itself into the Blue Nile, the falls at Tis-Issat and the numerous island monasteries of Lake Tana.
We hoped to do exactly what every other tourist does, take a boat to the outflow, where if lucky we might see hippos, and then visit one of the island monasteries. At the harbour we were soon haggling out prices and conditions with the touts. More or less any arrangement can be made. We agreed eventually on terms and prices with the third that we spoke to. We would share a boat with others which is much more affordable than having a boat for oneself. It would take us to two island monasteries, then to the Zege Peninsula and more monasteries, from there we would visit the outflow and with any luck see a hippo or two and perhaps have some fish for lunch before arriving back in Bahir. The trip would last about half a day and would cost 300 Birr each. The monasteries would charge an entrance fee of between 100 and 150 Birr but it wasn't compulsary to visit all of them. 
We weren't all that keen on the monasteries, having just been a week in Lalibela and would rather just visit one, Betre Maryam, being one of the oldest (14th Century) and most attractive on the peninsula. Its murals are said to be still in their original condition. The colours are unbelievable. The boat ride and the hippos were of more interest and we could do without fish for lunch.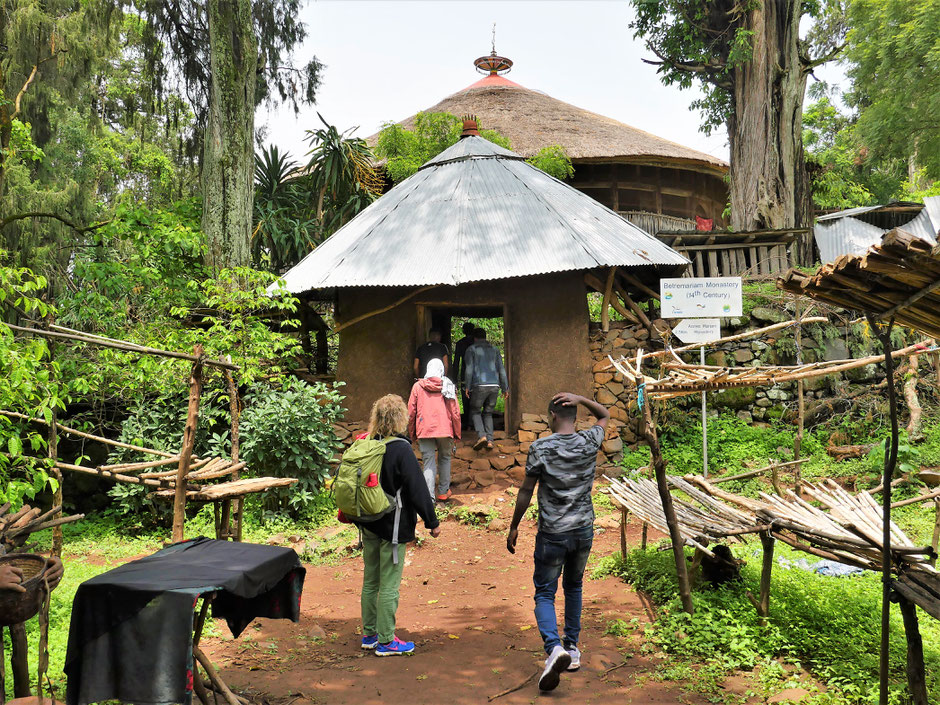 The tout was relieved to see us ready and waiting in the hotel lobby the next morning, he had agreed to pick us up with a tuk tuk free of charge despite the fact that I had refused his demand for payment of half the sum in advance. We were then handed over to his boss at the harbour (where we paid) and told not to talk about the extra special friendly price we had been given to the greek guy who would be boarding later. Our fellow shipmates were otherwise all ethiopians.
Of course the path from the quay to Betre Maryam was strewn with hawkers and self appointed guides who will bully or cajole people into accepting their services and won't let off, not even when plainly told to do so. Our chap was particularly obnoxious and would not be ignored. At some point he concentrated his efforts on the greek guy, with more success.
Our captain had less luck. Nobody wanted to eat fish. We were taken there nonetheless but nobody changed their mind. Ill tempered and snuffed he then took us to the outlet where we saw our hippos at last. Unfortunatly they were shy and didn't show much of themselves. All in all it was an enjoyable, at times trying and tiring day. A good 6 hours or so after setting off we were back and glad to see our van again.
---