Gebra Maskal (Servant of the Cross), of the Zagwe dynasty, ruled from 1119 to 1159 CE. As a baby a swarm of bees gathered around him thus prophesizing his future as Negus Negest (King of Kings) and which gave him the pseudonym honey eater or lalibela.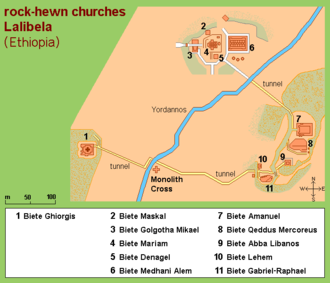 Mara Takla Haymenot the founder of the Zagwe dynasty is said to have married Masoba Warq, a daughter of Dil Na'od the last Negus of Axum and Negus Negast of Ethiopia. Another story associates him with Gudit (judith) a supposed cousin whom he succeeded after others of her family. Certain is that Dil Na'od was deposed and that the Agaw moved the capitol to Roha, a town in their nativ Lasta Mountains.
The seventh Zagwe ruler, Gebre Maskal Lalibela, began building the churches in an attempt to create a second or new Jerusalem. The eleven churches were hewn out of the solid rock surrounding them. A mind boggling achievement that lead the UNESCO in 1978 to proclaim it a world heritage site and name it the eighth wonder of the world. It is in addition next to Axum the second most important religious centre in Ethiopia. Roha was renamed Lalibela. The usurper dynasty didn't last long however and was in turn ousted by Yekuno Amlek who restored the Solomonic dynasty, being a direct male descendant of Menelik I, son of King Solomon and Makeda, Queen of Sheba. 
Our lodge organized a guide for us and we spent a day with him visiting 9 of the 11 churches. Biete  Meskal and Biete Golgotha Mikael were due to renovation work closed. We were more than compensated by seing he cross of lalibela being used (it is said to have healing powers), which only happens about once a month, in Biete Medhane Alem, the largest of all the churches and the largest man made monolithic structure of the world. We were also lucky enough to witness some "chanting" inside. The entrance ticket is valid for all churches and for four days, very generously allowing us to come again during the following days whenever desired. The fee was 50 USD per person and 30 USD for our guide (of course they allways expect more). All in all very affordable and well worth the very bad road leading there from Geshena. Most of the tourists who have little time fly. The backpackers get there by bus or are driven by tour operators such as ETT. We were the only overlanders and through a friend of a friend of a friend were able to abide for a week in the carpark of a very nice lodge free of charge. Things are changing though. The Chinese are busy building a road. No doubt more people will be driving there themselves in the future. 
---
Saturday. Market day. Africa at its best. A treat for all six senses. Of course we didn't expect to get a bargain and doubtless paid a premium price for our tomatoes, our onions, our garlic, spices and limes, but thats just fine the entertainment was well worth an additional few Birrs. Our lodge was perfectly situated within walking distance of all churches and the market and even the town, which hasn't much to offer though.    
---
Thankyou Bernadette
Thankyou Daniela
Thankyou Habte