After Metemma the lowlands gradually gave way and the landscape became rich and green as we drove into the hills. Quite something that we had missed. Our first destination in Ethiopia would be Tim and Kims' in Gorgora on the north shore of Lake Tana. 
The process on the Ethiopian side of the border was surprisingly efficient.  The Immigration building at the roadside was a very rudimentary inconspicuous shack but inside they were equipped with fingerprint scanners and cameras. The staff were not particularly friendly but professional and we soon had our stamps. The fixer – money changer who had shown us the way then pointed towards a lean-to over the road where we parked the van and went with him around a few corners, between huts and ship containers to the customs office. The carnet was without a fuss filled in and stamped and we were accompanied back to the van where we were asked to open the doors and some of the luggage. A quick glance inside was enough and we drove to the border rope next to the lean-to together with our fixer. The rope was let loose and we were in Ethiopia. The fixer was very keen that we drove on about a hundred meters or so before changing money. The rate was 100 SGD for 90 ETB and 100 Birr commission.
At Tim and Kims' we enjoyed a few days rest and our first beer since Alexandria. Five back packers were there from Belgium, England and Israel with whom we spent some enjoyable evenings. The grey water tank connection to the sink had broken and the back door lock occasionally jammed, which together with a few other tiny jobs kept me busy. Otherwise we busied oureselves relaxing, reading and reloading our batteries for the following etappe.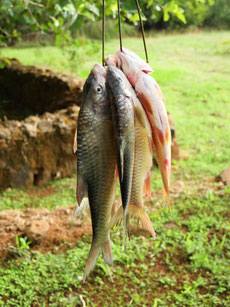 A pasture and a stony shoreline, alltogether perhaps a two hundred yard walk, separated our campsite from the lake. There are no Crocodiles but now and again Hippos make an appearance despite the absence of long grasses. They live in the south where the lake spills into the Blue Nile near Bahir Dar (pronounced Bahdah by the locals) where there is long grass in abundance. We were told that the Hippos seen here in the north were usually females with their calfes, trying to get away from their "husbands". The water is very opaque and not at all inviting. Bilharzia isn't supposed to be an issue here because the snails that host the worms likewise don't live on stony shores. However we didn't go bathing. From the local fishermen we bought six delicious fish, for just 35 Birr. A laundry service is offered by the girls at the campsite. We were surprised to see them cheerfully walk past us down to the lake where the washing was done. Oh well, never mind.
---
I had a 12 volt immersable pump so that water could be sucked out of a kannister into the van. In Sudan the pump blew two fuses and then blew itself. I do have a hosepipe, one of those elasticated ones, however taps are usually difficult to get to with the van and when found either unthreaded or they have the wrong thread despite having half inch and three quarter inch adapters. Most of the time we fill the tank by pouring directly out of a canister using a funnel made out of a PET bottle. I'm not at all happy about it but getting a replacement pump is out of the question. If at least I had an angled funnel not as much water would be spilt and we wouldn't get as wet as we now do. 
Gorgora is quite small and the shops have a very limited assortement. A ferry service operates once a week to Bahir Dar and there is a bus service to Gondar which I think runs at least daily. We decided to drive to Gondar, about 60 kilometers to the north, replenish our supplies and perhaps find a funnel. It was market day and very very busy.
Out of the corner of my eye I spied a shop selling all kinds of plastic stuff in a side street to my left. Surely they have a funnel. I stopped and  had to reverse a little to manage the turn and thereby oversaw a tuc tuc that was snug  behind me. Shit happens!!! I heard people shouting but it was too late, I had touched him. Judging by the commotion that followed one might have thought I had run over a goat. The acclamation was immense, a huge crowd gathered around us instantly. The damage was inspected. However it was difficult, even for the owner, to asses which dent was mine. Quotes were thrown back and forth and someone said 3000, at which I laughed and replied " not more than 500" to which he replied "OK". I paid, we shook hands, the crowd dispersed and it was all over as quickly as it had happened. Of course the 15 Euro won't be spent repairing anything but I was happy to get it over and done with without the police. Thank heavens it wasn't a goat.  
---
Thankyou Sarah
Thankyou Michael
Thankyou Louise
Thankyou Janit
Thankyou Janod