At the Sudanese border, regardless which one, a confirmation from the Egyptian traffic police that no fines for any eventual driving offences are outstanding is required. That paper is only available in Aswan. So we had to go there, which was no big deal as it's en route anyway and whilst there might as well have a ride in a boat.
Our felucca captain Ahmed, a very entertaining chap, would take us from the quay in Aswan round the northern tip of Elephantine Island (Mövenpick Point), past the Tombs of the Nobles at Qubbet el-Hawa on the Niles west bank, onto Kitcheners Island and the Aswan Botanical Gardens, along Elephantines west bank with the Aga Khan Mausoleum over the river, past the Elephant Rocks round the southern end between the Nilometer of the Temple of Khnum on the left and the Old Cataract Hotel on the right back to Aswan. However it was calm and Ahmed began to row whilst still downstream on the east side of Elephantine. Upstream on the other side he was hard put to it. Fortunatly a motorboat helped out for the last few meters to Kitchiners Island.
The island now known as El Nabatat was named after Field Marshal Horatio Herbert Kitchener whom it was given to when he was Consul-General of Egypt for his success at the Battle of Omdurmann 02.09.1898, and his service in the suppression of mahdist Sudan. He began a Garden there which is now the Aswan Botanical Garden. After a cool Karkadeh at the other end of the island we re-embarked and set off for Elephantine. Ahmed paddled his heart out against the current and rapidly became "very tired". As we reached the other side Ahmed began to rant with the wind and rave at his boss who knew exactly that there would be no wind today and who should have sold us a motorboat trip instead. How unlucky he was and how he hated his job. He would have nothing of me taking over and as we reached the Elephant Rock his strength failed him alltogether and we had to land. Ahmed who was still cursing then realized that he had left his slippers behind on Kitcheners Island and could'nt lead us back through the village to the public ferry quay on the other side and appologised for being so stupid and weak and cursed his boss again. We felt so sorry for him, paid and made our way accross the island. However we could'nt help ourselves and had to laugh, he had been so amusing. Thankyou Ahmed.
David, our host in Aswan, has a hostel in the cellar of the block of flats in which he lives together with his wife and children. It comprises a bathroom, a kitchen and a couple of rooms with bunk beds. During our stay he was busy renovating and as his mum and dad, who live in the same building, were in Cairo, he put us up in their flat, in his (and his brothers) old room. David is an orthodox christian, Egyptian, comunicative, speaks good english and is very helpful.
We chose to stay at the David Hostel because it was'nt too far to the Sudanese consulate and was very affordable. Same day visas are available from the embassy in Cairo for "only" 100 USD. In Aswan they cost half as much.
The  application took the best part of the day. They open at 8 o'clock so we were of course there at a quarter to and shown by the police guards where to park. The building resembled more a private house than a consulate. It had no walls around it with gates but just a simple sentinals hut in the street next to which a police pickup stood with the bonnet open and two or three policemen perusing its contents. We were told that someone would come at 9 or 10. We decided to look for a copy shop in the meantime, and upon our return nothing had happened. On the opposite side of the street stood invitingly a large wooden bank in the shade and we made ourselves comfortable as best we could.
Half hour later the police began rearranging their chairs and another half hour after that someone arrived and entered the building. During the next half hour the staff began to arrive and half an hour later a fat black Mercedes Benz arrived with a green stripe on the number plate (presumably a Diplomat) and we were promptly told off for parking where we had been told to and had do move the van. Half an hour later the gentleman from the Mercedes returned from his breakfast break and half an hour or so later, it was by now 11 o'clock, we were allowed inside the waiting room.
Half an hour later we were each given a fiche to fill out and half an hour later just in time for their lunch break were relieved of our passports, photocopies of both passports, photocopies of both Egyptian visas in our passports, two pass photos each, both application fiches, 100 USD and told to come back again tomorrow at 11 o'clock. 
The following day at a quarter to eleven we found ourselves back in the waiting room and again very timely an hour later were given our passports and welcomed to the Sudan.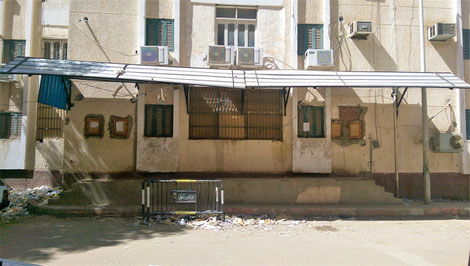 The next hurdle to be taken was the traffic police. David knew that people heading for the Sudan had to go there and he even knew where it was and even better it was just round the corner within easy walking distance. He went with us just to show us where it was and could even ask what documents were necessary.Copies of the owners passport, the owners Egyptian visa and the drivers Egyptian licence. The offices were closed but open the next day at ten.
The building was more like an auctioneers warehouse than police offices and at the small barred windows crowds of men contended to be dealt with. Without David we would have been there all day. The necessary copies were handed over and rejected, they needed originals, we handed over the originals and were again rejected and David told us that we had'nt paid a fine of 1000 LE from 2015. My goodness me, Egyptian beaurocracy at its best. We then went with David to the other side of the building to another barred window, up some stairs, into a waiting room and finally into an office where David explained to the officer that we were in Egypt for the first time and that there must be a mistake. The officer agreed and said he would delete the entry connected to our number plate and we were told to come back in an hour. In all probability the number plates are reused and something of this sort happens when someone does'nt save an entry or makes the wrong one.
An hour later we were again in his waiting room only to be sent back to the barred window at the back of the building. This time at least someone had been informed and we were sent to another window where we paid 10 LE !!!!! and were at last given permission to leave the country. I did'nt bother asking what happens if I commit an offence on the 280 kilometer long road to Abu Simbel.
---
Thankyou Ahmed
Thankyou David