Our ship the Fides was on its way and in a few days, touch wood, would be arriving in Alexandria. We were required by our agent the Consolidated Freight Service to be there a couple of days in advance and we decided to get there by train. The Ramses Station in Cairo was fortunatly, heavily laden as we were, just one metro stop and a short walk away. The Egyptian National Railways (ENR) is a very priceworthy company and has a good reputation. We gained the information we needed from the man in seat 61. The fare for a first class air conditioned carriage was 51 EGP, about 2,34 € each (exchange rate 0.046 EGP to 1,00 EUR). Three hours later we had reached our destination with stops in Banha, Tanta and an Alexandrian suburb (the station name was written only in Arabic).      
Most of our time in Alex (as it is commonly known) was involved with recovering the van. We did however manage an excursion to the Munzana Palace Park, reputedly a green oasis amidst a concrete jungle and factually a disappointment, a handfull of dry lawns strewn with picnic debris and little looked after. Alone the trees and enclosed gardens surrounding the palace (no entry) are reminiscent of its long gone splendour.  
On another occasion we went to see Pompeys Pillar, which was erected in 297 CE above the Serapeum. The column is a monolith, one of the largest errected by Rome, made of red Aswan Granite and weighing some 285 tons and well worth seeing, a wonder that it still stands. We also made the aquaintance of corrupt policeman who will lure you away from the Pillar into the library tunnels ( a dependance of the great Library of Alexandria) beneath the Serapeum.  There
you have your picture taken next to a black plastic Apis and are rudely relieved of 20 pfund for the privilege.    
Alexandrias greatest asset is probably the sea. We spent hours just walking alongside it, watching it, the boats, the fishermen, the traffic, the anglers and the passers by, stroling to and fro. We were soon regular guests in the Cafe Selsela which is nicely molded into the coastline just opposit the new library and where we could relax. At last we were given our van (see the red tape posting) and were glad to leave. Allthough we had allready been three weeks in Egypt, as I turned the ignition key, it felt as though our journey had now just begun.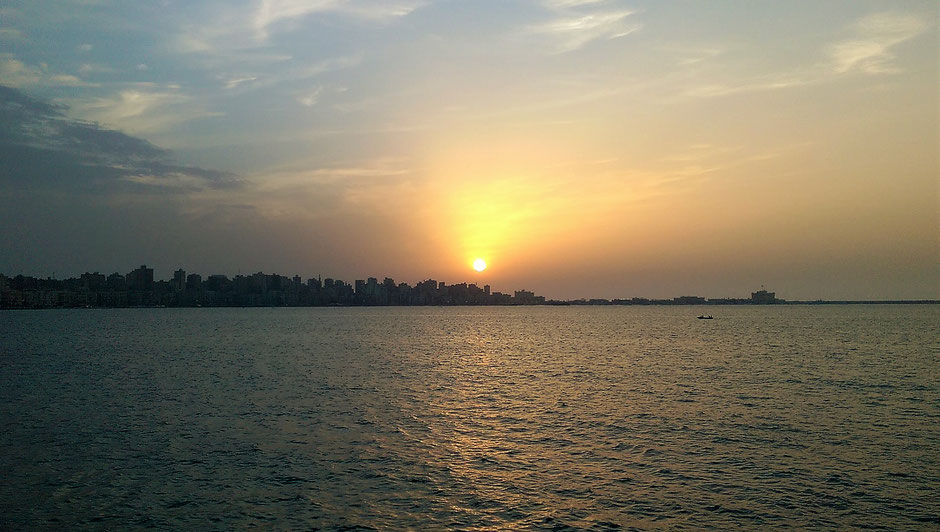 ---